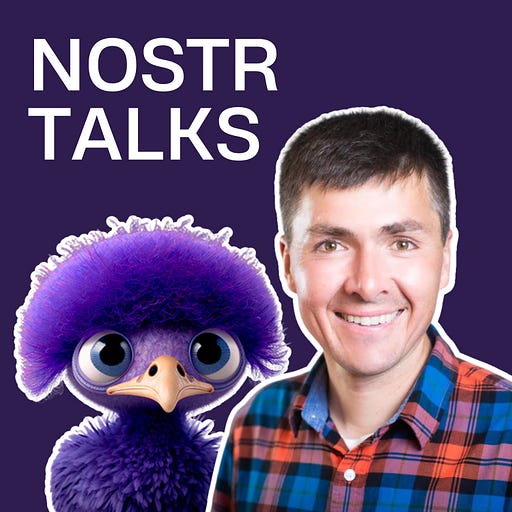 Mar 2 • 1HR 57M
Nostr News - Mar 1 - Max Webster and DK
⚡️ zaps on zaps ⚡️
Nostr is a simple open source messaging protocol. But its potential impact on how we communicate, publish, and share information is profound. It radically reshapes our assumptions about web publishing and opens up new frontiers in free speech - a web without masters. Along the way it explores radical new approaches to product innovation, too. In this podcast I interview people building this future and host weekly news shows to keep you updated on what's happening in the Nostr ecosystem. Join me to learn about these new tools to build a more open Internet and to empower greater human freedom. I'm an angel investor and entrepreneur with over 2 decades of experience in Silicon Valley building technologies and products to improve peoples' lives.
0:00 #marchofftwitter, a bridge to traditional tech builders
8:30 podcasting at Nostrica
12:10 keep nostr punk
16:18 zap mania
25:50 zap/lightning ambassadors - e.g. bitcoinbull
28:37 StackerNews, Fountain, forwarding/splitting tips
30:20 paywalls/content unlocking
33:25 Kevin Kelly - "Better Than Free", "1000 true fans"
39:17 Stats Time - stats.nostr.band - Artur
55:55 Max/DK book corner
59:31 lightning tip bot
1:00:55 fiatjaf nostr fund - "report on how Jack's money is being spent"
1:03:07 nostr microapps, nostr as the OS layer
1:10:10 highlighting/participating/annotating long-form content - wikipedia on nostr
1:20:12 strfry - Merkle-tree based reconciliation
1:23:00 sats the standard
1:24:40 Nostr Marketplace - bountsr.org
1:28:05 Geyser as a Nostr client?
1:29:33 Mastodon Fediverse Bridge - Mostr
1:38:22 Nostr love letter - Dries Buytaert - Drupal author
1:40:45 Best News Source?
1:46:47 Twitter Coins meme
1:48:00 Breez - earn yield without custodial risk
1:52:05 Nostr Nests - f.k.a. Nostr Pleb Spaces - Derek Ross
1:54:34 Plebeian Marketplace
1:55:09 Ordinals NFT marketplace
Thanks for reading Curious DK! Subscribe for free to receive new posts and support my work.